I was searching the internet and came across this wonderful site. I really appreciate you posting this article. I have always had a small bald patch on one side of my head. My mom told me it had always been there so I didn't worry about it. Recently it has been getting larger and the hair around it is getting lighter. On the other side my hair is thinning and the color and texture is changing. It also seems to be falling out. I have excessive hair loss on a regular basis. I am only 24 years old and I can't stand that my hair is falling out. I went to the dermatologist and he gave my injections but they didn't work. He said I have alopecia areata and that the other side was a normal receding hairline. (He barely even looked at it) He then told me after the injections weren't working to try Rogaine. I think it might be helpful to see an endrocrinologist as I have also been having problems with anemia. Again, thank you so much for the information you have provided.
Hi Lisa, hope you were able to speak with your doctor. I also talked at length with my mom and sister and feel a little better. My mom has hair but it is very thin but I forget she has had surgeries and takes a lot of meds for various conditions and she knows this has caused her hair loss. My sister has PCOS and that has made her hair thin out. I had a good appt with my dermatology nurse. She sat and talked with me and listened and was very interested and caring. I cried for about half the visit. She examined my head and does see the thinning but it isn't consistent for androgentic alopecia and there aren't any just out of nowhere hairloss in the family (she seemed more concerned with females than male relatives). What I haven't stated is that I don't handle stress well, the last time I underwent major stress was with the acne and she thinks it has taken on another form. To be as brief as I can besides taking two night classes, working full time, single mom no help from their dad ( a teen daughter and preteen son!), major stress at work, separated/divorced, financial stress, found out my dad's prostate cancer came back, aging parents (they can't take care of things like they used to and I'm living with them and it's on me now), and just found my ex husband (not my kids' dad) has lung/brain cancer and we aren't on speaking terms and we work for the same company, oh yeah and I have new boyfriend. The last of this list happened all this month. I know I haven't been eating well, and with the constipation if I'm severely stressed it runs right through me, then I know its bad. So she and I decided to go with biotin & a multivitamin, see my PCP she really wants me back on anti anxiety pills, I will still see him but I want to talk to him more at length because it can cause hairloss, we are continuing my 200 mg of aladactone, my orthotricyclen, eat better, I do have regrowth in my bangs. She is very concerned about my mental health (my BFF says to me "how is my ball of nerves today?" that's how bad I am!). I know I just need to manage it better and talking to her was the first step because she too went through a stress shedding period (I do remember it, it was a year ago) and her hair is coming back in. She said it will come back for me. But for my own psychological health she said for me to get the rogaine foam for men and use it, just so I can see regrowth faster. She said they say not to use if for women because of the pregnancy issue and that isn't a factor for me. I also had burning and itching but with the use of Nioxin it is better. She also said only wash my hair once a day (I usually do twice), and use low heat for my hair. She is going to see me in three weeks.
Laser light therapy is not a baldness solution, and the HairMax takes a time commitment: You have to use the product for 15 minutes a day, three days a week and you have to keep using it indefinitely to get results. Still, laser light therapy has no major side effects, and may be best for men who have noticed some increased shedding and want to maintain more of the hair they have on their head.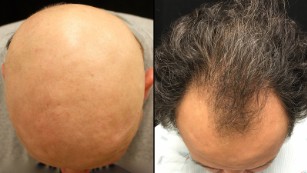 It is perfectly normal for people to shed 50 to 100 hairs per day. This generally doesn't cause noticeable thinning of scalp hair because new hair is growing in at the same time that hair is shedding. However, hair loss occurs when this hair growth cycle and shedding is disrupted or when the hair follicle becomes destroyed and replaced with scar tissue. Female pattern hair loss (androgenetic alopecia) is the most common form of hair loss in women. This occurs gradually and is caused by genetics (from either side of the family), age, and the action of a specific male hormone, dihydrotestosterone (DHT). This hormone is found in lesser amounts in women and it preys on the hair follicles, preventing them from receiving vital nutrients for proper hair follicle growth, leading to the hairs shrinking, and resulting in a shorter lifespan. Interestingly, DHT does not need to be elevated to generate hair loss. Estrogen, when lowered as commonly seen in menopause, creates a change in the ratio of male to female hormones, giving an edge to these male hormones. Compounded with the sensitivity of DHT to the hair follicles, heredity can affect the age at which a woman begins to lose her hair, as well as the rate of hair loss and the extent of baldness. 
My scalp is pain-free but has on occasion flared again but 1/100 of the original pain. My scalp still needs frequent shampooing (I could go weeks without it before) to keep the dermatitis at bay. My hair and scalp are still fairly dry and brittle despite aloe for moisture, avocado oil to moisturize and seal in moisture and Behentrimonium Methosulfate to close cuticles, provide slip and halt hair snapping, BUT the breakage is 90% better. I'm still too afraid to go back to humectants though I know they're amazing as moisture-retainers for dehydrated hair. I have spots of completely missing hair towards my hairline that hasn't and will probably never regrow but I'm focusing on nursing everything else back to health.
Taking hair supplements can be helpful for anyone who is experiencing hair loss or hair thinning. Dendy Engelman, MD, a board-certified dermatologic surgeon at Medical Dermatology & Cosmetic Surgery in New York City, previously recommended Nutrafol, a research-backed hair supplement, to Prevention. "This uses highly concentrated botanicals to address every stage of the growth cycle," she says. Nutrafol's hair supplements include vitamin E and ashwagandha (an adaptogen that helps balance cortisol levels in the body), among others.
Diffuse female hair thinning and hair loss during premenopausal age is usually not heredity. It is usually caused by hormonal imbalances seeing in PCOS or thyroid disorder, nutritional deficiency (low iron), and stress. Women with PCOS produce high levels of androgens such as testosterones and DHEAS. The ratio of LH and FSH is also more than 2. Make sure you get your sex hormones check if you notice your hair thinning.